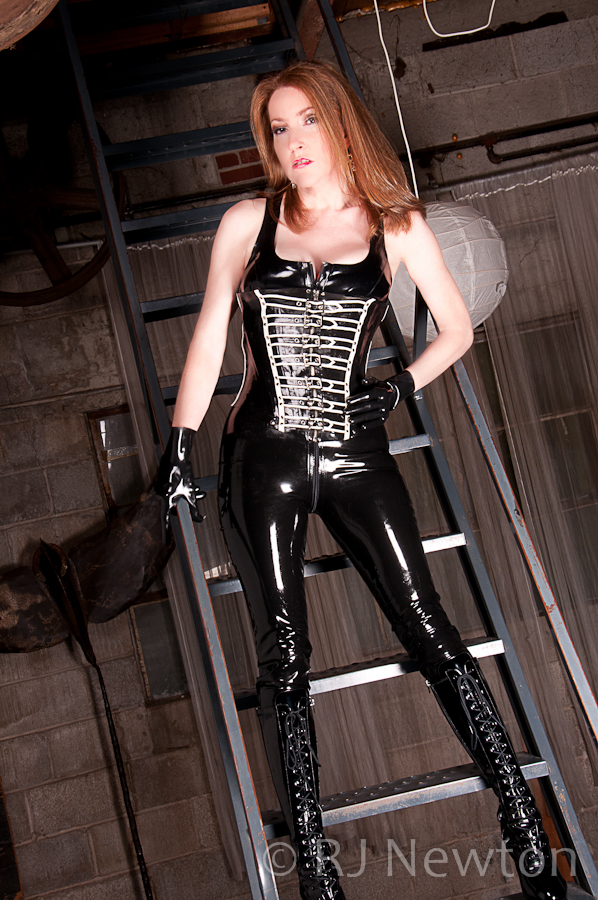 Someone once told Me that they thought real sessions began about the 2 hour mark – anything else was a waste of time.  With some subs that is true.  It takes time for them to ease into their submissive mode and reach the subspace they seek.  The poster of this review has never had less than a 3 hour session with Me.  Many have been 5 hours, 6 hours and even overnight.  He and I share a vast amount of interests and he can really take a lot, so I look forward to these extended sessions and use them to steadily push his limits.
Here are some excerpts from his latest review.  The entire review can be found Max Fisch's The Hang.
"In my communications with Mistress Ayn prior to our date, I requested a four hour "Intense" session. Well be careful what you ask for. Mistress pays attention to your every word.
When I arrived at the Dungeon, Mistress was dressed to KILL in sexy heels, latex leggings, latex corset, and top. Absolutely Gorgeous . I happened to bring along a few gifts for Her upcoming Birthday and a Latex Metallic Red Blazer. She put the Blazer on and you've never seen a more Beautiful Mistress. I couldn't keep my eyes off Her.
Now down to business. Four hours of "Intense" business.
. . . I have very few Hard Limits. One of them is Ball Busting. I expressed a curiosity in the past to explore this and Mistress Ayn obviously remembered.  I was about to get my first lesson. She began with the heavy flogger. Easy at first, then slowly increasing the intensity. She then proceeded to knee and kick them. I'm sure we'll expand on that experience in future sessions, but it was exciting to try. Next Mistress tied up my balls and proceeded to add, I have no idea how many, clothes pins (large and small) to my balls, shaft, and corona. While they did their work, She turned Her attention back to my nipples with that Nasty Nasty little cane. Between beating my nipples with that and trying to slap off the clips down below with it, the wrist cuffs on the cross was the only thing holding me up.
 We retreated to the Medical Room so She could began preparing me. I was placed into a red bra and laid down on the Gyno Chair. I was strapped in tight, wrists secured, legs in the stirrups. Mistress slipped a device under the bra over my nipples. This device grabs and twists the nipples under power. Next a series of dilators were used to begin stretching my ass. Finally, an inflatable butt plug was added. An inflatable gag was strapped on next. Mistress wanted all my holes filled, so with that, out came the sounding rods . . . 
Satisfied with Her prep work, I was released from the Gyno Chair, implements were removed and we went back into the Dungeon. I was placed back on my knees and my wrists were cuffed behind my back. Mistress Ayn appeared before me donning Her Strap On. She instructed me to suck her cock before She Fucked My Face. Humiliated and helpless, I did as She asked. Next I was ordered on to the Spanking Bench. Wrists and Legs strapped down, collar hooked to the bench with no room to move, balls tied, stretched and secured to the bench.
I had a custom signature paddle made for Mistress Ayn. It was time to break it in. After more blows than I counted, I can honestly say, it was VERY effective. Add to that the fact that I could not move due to the restraints…very intense . . . 
 . . . During this time She reached down to my incredibly sore nipples and began to pinch them again. Call it sub space or whatever, but I told Her "Harder", and boy did She respond to that request….Her strap on was replaced with a prostate toy. Mistress Ayn then went from one nipple to the other, back and forth applying pressure and whispering in my ear "Say It", to which I would reply "Harder" It was such an amazing high . . .
 Next She selected a Dragon Tail and really went to work on my back like never before. When I thought I couldn't take anymore, She paused and whispered "I'm going to push you to the edge", and proceeded with another more intense flurry while just saying "Take It". Mistress Ayn paused again, leaned in and said "Say It" To which I responded "Harder",  And it was!! This went on for several more flurries. When it was over, every part of my body was shaking. Mistress Ayn stayed close and with a soft hand and voice, talked me back down to earth.  But my ordeal was far from over. . .
She is an Amazing Mistress. I'm so proud to be in Her company. Love Her."
Read the full review here.