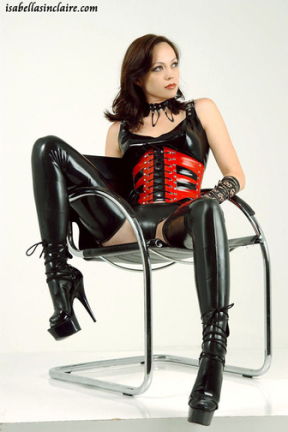 March 2nd – 4th, Mistress Isabella Sinclaire will be visiting Atlanta and spending some quality time with the Dommes of Atlanta Dungeon.  Friday night is party night and your chance to meet an industry icon.
Atlanta Dungeon's parties are already legendary, so it is only fitting that we should celebrate the visit of a legendary Dominatrix – Ms. Isabella Sinclaire.  This time We are mixing things up with the initial party being held at The Shelter.  We have our own VIP area in the back and We will follow up with a private after party at the Dungeon.
cost:  Our VIP area is free, but there is a $7 cover at the door
dress code:  Almost anything goes
location:   The Shelter Nightclub
address:  2101 Tula Street, NW, Atlanta 30309
date:  Friday, March 2nd, 2012 @ 9pm
A little about Isabella Sinclaire:  "Easy on the eyes, hard on everything else." This tag line defines the woman who has become an international pillar of the fetish community since 1992. Highly regarded amongst her fans and contemporaries, and having been featured in many areas of the public eye, including television, magazines, lectures, seminars, radio, public events and performances, she remains one of the world's most sought after Domina's.
All of Atlanta's premier Dominatrices will be in attendance and exhibiting Our own brand of Southern Hospitality.  The Shelter is a liberal venue so expect things to get a little crazy.  Once we get back to the Dungeon, expect things to get a lot crazy.
Socialize: Get to know Isabella Sinclaire and mingle with Atlanta's top Mistresses.  Bring your wittiest conversation and  anything else you think will impress Us.
Play: Foot worship, spankings and who knows . . .   We are bringing along some Dungeon equipment to make things more fun.  Mon Cherie productions will be presenting a piercing show complete with belly dancing.  Want a private session?  No problem.  They are available with any of the Dommes at the after party.
Who you will meet:
RSVP here (ayn@mistressayn.com) and if you are interested in attending the after party, let Us know so you can be put on the list.