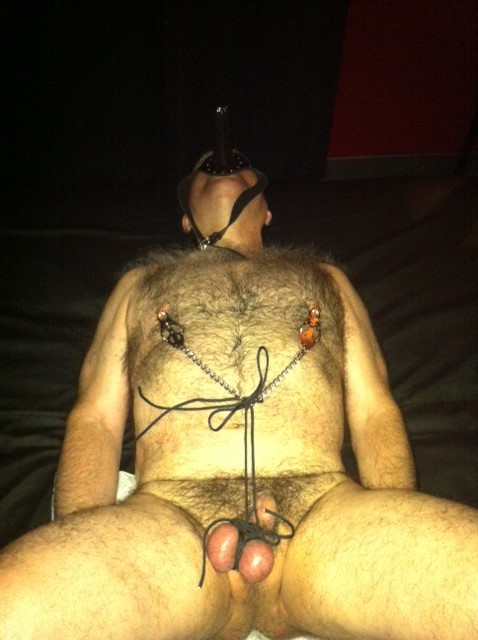 Oh, how diabolical it is!  Predicament bondage consists of putting a person in a position offering limited movement and positions shifts, but each of those shifts has a consequence.  Planning this type of play can really get the creative juices flowing and the reward for the top is non-stop entertainment.
Here are two examples:
#1 The nipples are clamped and each clamp is tied off to a big toe.  If the sub is standing he would be made to stoop to keep the pressure off this nipples.  If he tries to stand straight or moves too quickly, the nipples get a jerk.  Having My slave perform tasks while in this predicament can be amusing.  This also works laying down.  The sub is made to keep his feet perpendicular and a nipple clamp is tied to each toe.  If he relaxes his feet, he tugs on the nipples.
#2 The cock and balls are securely tied and then tied off to the subs collar.  If laying down, he has to curl up to keep the pressure off his balls.  If he relaxes he increases the pressure on the cock and balls.  He won't be able to stay in either position for long and must keep shifting from one uncomfortable position to another.
Predicament bondage can be tons of fun for the Top and Her bottom and thinking up new predicaments is half the fun,