I just had a NiteFlirt session where I had a sub torment his own cock and balls.  He got hard while we were chatting and he asked if I would let him go to the bathroom and cum.  (He was at the office at the time – so much for work productivity.)  I agreed, but only if he would punish his cock and balls a bit first.  I had him take a rubber band from his desk and then sent  him into a bathroom stall where he was instructed to bind his balls with the rubber band and then scratch and slap them a bit.  He was made to continue playing with himself until he issued a little pre-cum, and then he was instructed to eat it.  By this time, he is throbbing and begging to cum.  "No", I say.  "Slap that cock hard and get it under control."  I could hear the slaps and groans through the phone.  The begging and the slapping went on for a while and I finally had mercy and allowed him to cum – but he had to slap his balls at the same time.  The resulting groan was almost deafening
It was fun.  We both had a good time.  But nothing compares to My having My slender fingers around those tender dangly bits.  I like tying the balls off and wrapping the cord over and over until the balls are stretched away from the body.   They are so much more vulnerable that way.  Then I like to scratch, rub, thump, slap . . .  anything that takes your breath away.  That's the warm up, now it's time to really get down to business.  Clamps, weights, electrical, sounds – the list of indignities I can make your pathetic cock and balls submit to are almost endless.
To see how brutal I can be on just the right type of cock, see this clip – Extreme CBT – Destroy his cock and balls.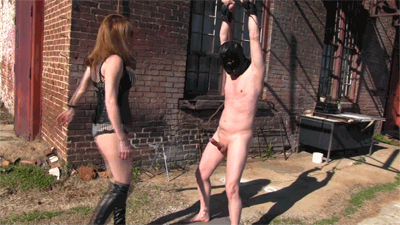 So, if you think you are up to it, schedule a CBT session with Me – live or on NiteFlirt.  I can be gentle, but I probably won't be.