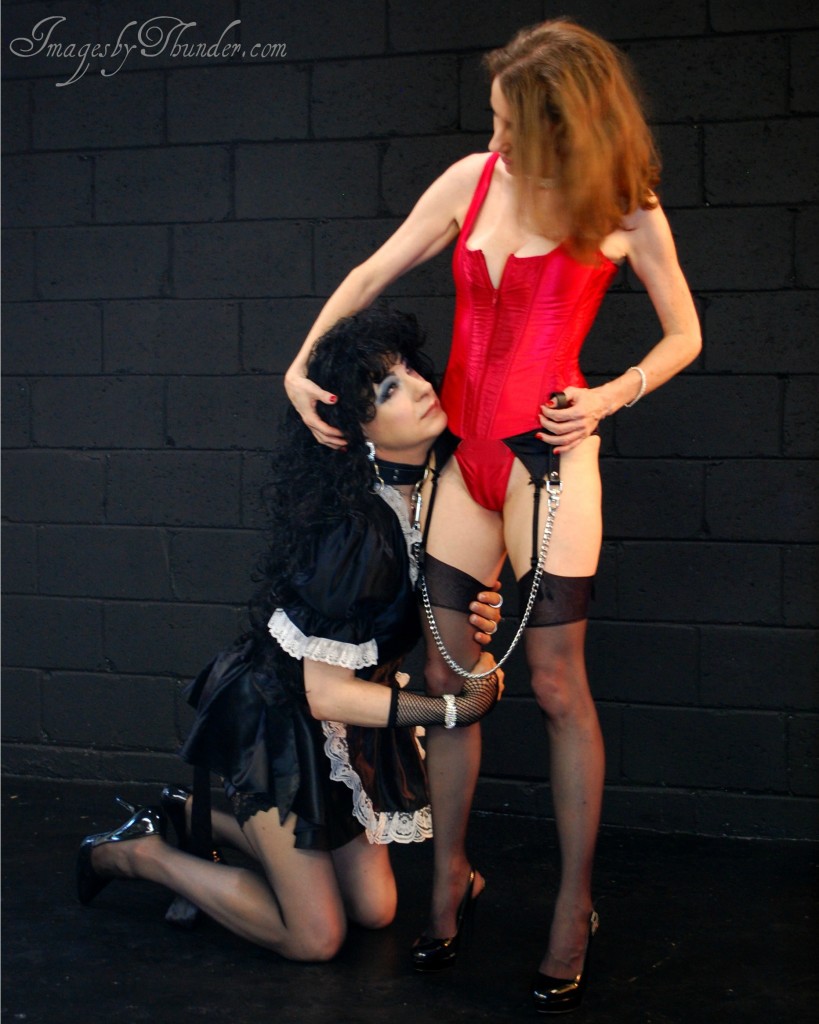 When most people think of BDSM or a Dominatrix, the image of whips and chains comes to mind. However, not all forms of domination require pain or the harsher aspects of submission.    Sissification and transformations are examples of such scenarios.  These scenes can go by many names:  slut training, sissification, forced feminization, transformations – just to name a few.  They do not have to involve bondage, pain or even humiliation.  Some subs are willing participants in their transformation.  They desire to be rid of their male persona, even if only for the short duration of a session.  Others want to be "forced" to let their male ego go and usually find the humiliation of the experience exciting.  There are as many shades to sissification as there are in the color gray.  To each his own.
One sub summed up his experience in a review on The Erotic Review.  Here are some excerpts from the "Juicy Details":
"Mistress Ayn shows her softer side by initiating and following through with my sissy transformation. From the moment I walked in the door Mistress Ayn began the transformation by stripping me of all male clothing. As I kneeled before Mistress Ayn and was allowed to worship her, she began to explain that I was no longer in the position to make decisions and I was now her property to do with as she desired. She sent chills through my body  . . . "
"The session gravitated to the medical room where I was strapped down to an examination table. This is when I first heard the sound of her skin thin rubber gloves. She whispered to me that I soon will understand what will definitely always happen when I hear the sound of her gloves . . ."
"Back to the examination table I went for make up which Mistress applied with care. While all of this was going on Mistress Ayn continued to tease me with the suggestions of how I was going to make a pretty girl who would soon be sucking cock and having their sissy ass filled. She meant it too . . . "
"The session moved in to the dungeon where I was dressed in beautiful stockings, garter belt, a silky top, a wig and high heels. I then modeled and walked around for Mistress Ayn while she continued to suggest that a slut like me needed to be put to good use and of course it was too late for me to decide otherwise. There was a little light spanking as a tease; however, Mistress Ayn did this just so I was sure who was in charge. She listened to my voice and body and made me feel safe and thoroughly aroused!"
"I lost track of time before too long and my head was spinning until the next day from the intensity and carefully orchestrated sissy session that Mistress Ayn provided. I am very afraid of any pain and Mistress Ayn took very good care of me. We have had a second 4 hour session and I give 100 Percent trust to Mistress Ayn that she will and has taken exceptional care of me. The professionalism that Mistress Ayn demonstrates is what I have been looking for. Our journey will continue with some shopping and night club outings and . . . "
"Mistress Ayn is leading me down the safe path to happiness with her care, professionalism and understanding. She is a dream come true. I love what she does for me." –  sissy crissy
For the full review, visit TER – membership required.
In My experience, subs who enjoy and focus on sissification, typically are not into much, if any, pain.  There are exceptions to that, of course, but generally speaking, sissies love the tease, tactile sensations and visuals.  Activities like tease and denial, strap on worship/training, chastity and other forms of sensual domination are more up their alley.  So it you have been fantasizing about a sissy session, but were afraid, don't be.  Just communicate your desires to your dominant and then relax and let it happen.  Getting in touch with your feminine side can be a good thing.