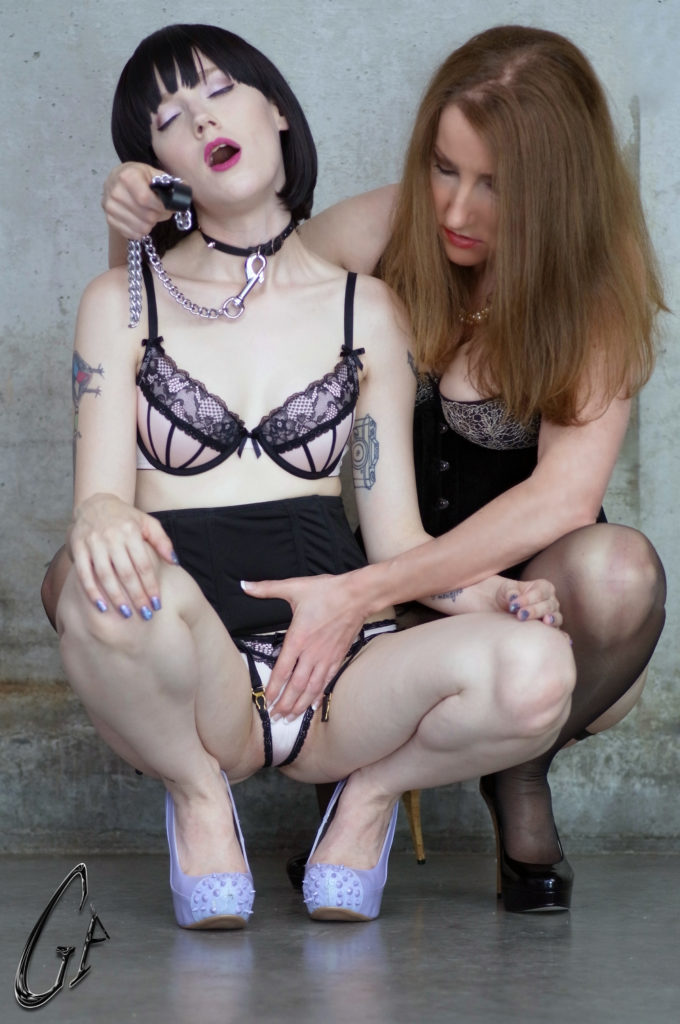 Sometimes adding a submissive little slave girl to the mix is just the right spice to liven up a long term D/s relationship.  One of My most loyal subjects schedules just such a session from time to time.  Here is his review of his latest with My newest kitten, Ria Rocket.
"Last week I was watching videos from Mistress Ayn's fansite, aynrules.com when She introduced Her latest kitten, Ria Rocket. Didn't take long for me to decide that I wanted another Cougar and Kitten session. . .
Ria is a petite, adorable kitten standing five feet tall and weighing in about 95 pounds with beautiful dark eyes that are almost hypnotic. . . .  Mistress Ayn's kittens are notorious for getting session mates in trouble. Sure enough Mistress walked in and caught us exploring each other.
Ria knelt in front of me just out of reach and I was given permission to TRY to touch her nipples to distract me while an anal probe was inserted. Of course, being strapped to the bench made it almost impossible to reach Ria. Smiling that patented "I've got you now" smile, Mistress turned up the juice causing me to jerk forward reaching Ria's nipples. Ria immediately let Mistress know I had succeeded in my quest causing a sharp increase in current not to mention a leather strap across by butt(told you Ria was naughty). Ria orgasms from pain very easily. Ria was moved even closer and I was instructed to "nip" her nipples making her orgasm. Mistress decided to punish Ria again for having an orgasm without permission. Now it was my turn to spank her. I started out gently but Mistress would have none of that. "Harder, paddles. I want that butt red right now". "Yes, Mistress", I replied quickly increasing the tempo and severity of my spanks.
Way too soon it was time for the grand finale. Neither of us had any idea what was coming but we quickly followed instructions. Ria on her back with me straddling her. The rest of the details must remain a mystery for the three of us to remember. Be careful what you ask for; you will get it in spades."
This review appears on Max Fisch, The Hang.