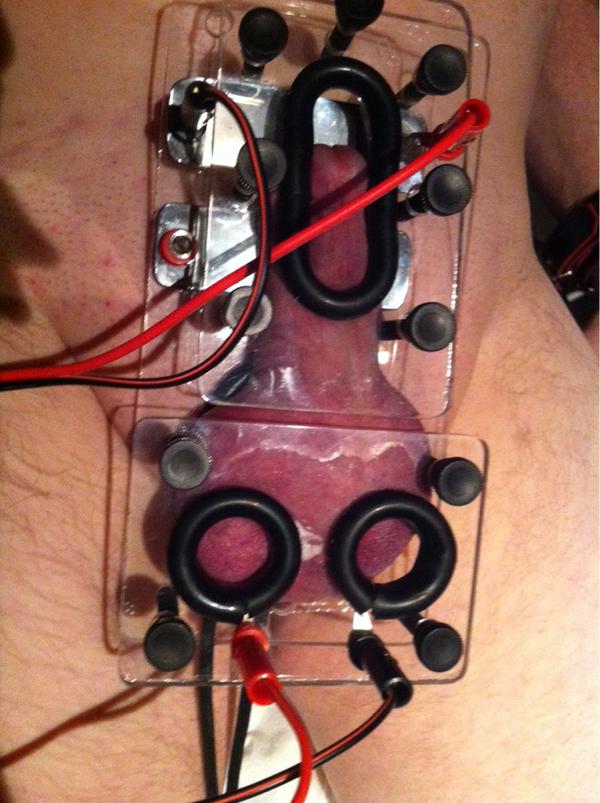 Electro CBT Board from Current Pleasures
3 out of 5 stars ★★★☆☆
I received this electro device as a gift about a year ago. I am a big believer in trying devices out on Myself before they ever touch a slave, but in some cases I just don't have the equipment to do the testing.  So instead, I tried it out on Atlanta Dungeon's house slave, toxie.  I am glad I did.
Overall the board gets the job done, but there a few things that need to be noted:
The board comes in several sizes, so be sure to measure properly prior to ordering.  This is not a one size fits all toy.
Much like a chastity device, it's best that your sub is flaccid or semi-flaccid when putting on the device.  The balls, then the cock have to all go through that one hole.
To get the most from the toy you will need a one banana jack to two banana jack splitter (not included).  Without this splitter all the electro on the cock is concentrated on one section (either primarily the cock base or primarily the head), not spread across both sections, which can make it too intense for some.
Putting the device on can be cumbersome.  You may feel like you need more than two hands.  That is the nature of such devious toys.  Don't be shy about asking your sub to help out.
When screwing down the plastic screws, be careful that skin is not in direct contact with them.  Otherwise, skin can get caught in the grooves as they twist and cause pain and lacerations.
Be careful when pushing the connectors into place.  Depending on the placement of the cock and balls, the jack can go all the way through to the other side of the board and pierce the skin.
I have used this device numerous times over the past year.  I've gotten faster at getting it in place, but it does take time, so it's not ideal for short sessions.  It's best used when you have time to enjoy the mindfuck of the process and the visual that results.  On the plus side, the board provides a nice vice like grip to the cock and balls while delivering current to the right areas and it looks absolutely awesome once it's on.  Bottom line:  If you are an electro aficionado, go for it.  If the idea of ratcheting all those screws down makes you sweat – take a pass.