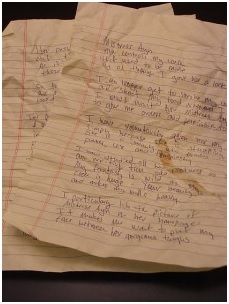 I was contacted by a submissive who wanted Me to take over control of his cock.  It was a simple enough request.  I would call him anytime, day or night, and ask if My cock was hard.  If it wasn't he had to take the necessary measures to make sure it was standing at attention for Me.  I agreed to take on the responsibility of clyde's cock, but I added a stipulation – clyde wasn't allowed to ejaculate.  Hmmm . . . hard cock, held chaste for Me.  I love it.
After about 2 weeks of this, poor clyde was in agony, so we scheduled a session.  I decided to ratchet things up a bit the day of his session.  (That's a big surprise, right?)  He was instructed to wear tight thong underwear that would effectively strap the phone to his cock and balls.  The phone was put on vibrate and for the next 24 hours, I tortured clyde's cock remotely.  From the wee hours of the morning through the business meetings he had the next day – I was ruthless.
One of clyde's many tasks over the preceding two weeks was to write Me a poem.  He presented Me with the poem at our session and I made him read it to Me aloud.  What I had expected was a glorified limerick.  What he gave Me was 3 page manifesto.  So I teased him while he read to Me by calling the phone that was still strapped to his cock.  By now his cock was so sensitive that we would jump and dance around while it rang.  What a site!  Poor clyde in his tight little black thong, jumping around while trying to read his ode to Me.  The vision still brings a smile to My face.
The photo to the right is a picture of clyde's poem.  It is a little crinkled because I used it to clean the pre-cum off his cock during the session.  Clyde was a very messy boy.