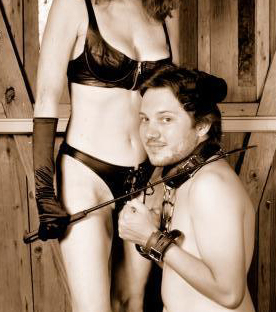 This musing was written by one of My greedy little sluts (My gls) who will remain in his hiding place to the rest of the world.  All that matters is that he surfaces when he serves Me – which isn't often enough for either of Us/us.
"Edging into Chastity. It may be your first telephone call or your forty-first email it makes no difference. Standing or sitting, you are still deciding whether to push the final button right up till when you either weaken or gain resolve. The push of the send button dispatching a carefully crafted email, or pressing that last number on your phone dials Her number. you are drawn to Her like a moth to a flame. you can never resist.
You meet Her criteria and are granted a session. It might be in 24 hours or two weeks, it doesn't matter.
The time leading up to Your/your session is like the countdown to a rocket launch. You are in preparation mode now, driven by your own sense of preparedness, or better still following Her instructions to the letter.
As the clock moves you closer, your heartbeat increases and your mind wanders. You surreptitiously visit Her website, follow Her tweets, read Her blog, then the realization hits; you have already become Her sub, Her sissy, Her slut, Her slave and Her session is still three days away.
Suddenly you are standing in front of Her Dungeon pressing another button. This time the pressing of a button opens a door, a door that leads you into the dark secrets that you keep hidden from everyone but Her.
you step inside into the place where you most want to be. The door closes and in a matter of minutes She takes you from that place that you have always dreamed of, to a place She knows you need to be.
you were afraid of this happening and you wonder how She knew about that other place."