Want to see your fantasy made real?  AynRules Productions will be filming with Goddess Samantha and slave tig within the next few weeks, so it's time to order your custom video.   Email your scenario now for consideration.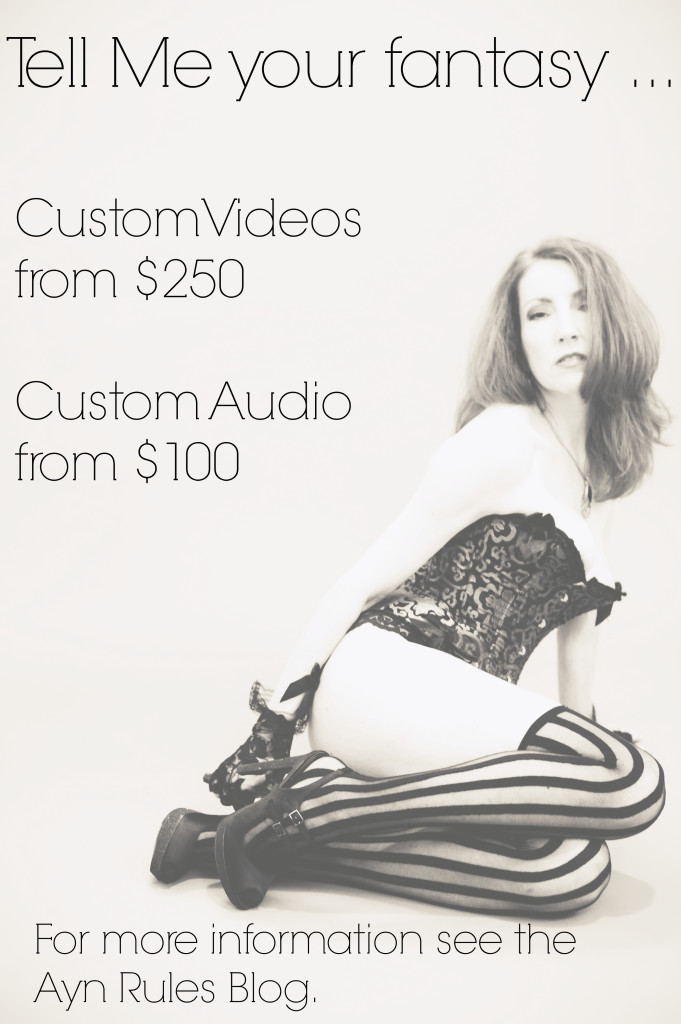 Here is how it works:
Have you been fantasizing about the perfect BDSM/fetish scene? A scenario that you can relive anytime you want? Now you can have it by commissioning a custom video or audio audio files. Tell Me your fantasy and I will make it real. If approved I will produce your scene and send it directly to you.  It will later be added to our archives for other members to enjoy.
Want to super customize it with your name or keep it all to yourself?  That's also not out of the question, but a surcharge will apply.
Prices are estimates and could change dramatically based on the complexity and length of the scene.
Audio starts at $100
POVs start at $200
Scene with a male sub – starts at $250
Each additional Female sub or Mistress – starts at an additional $100
Send inquiries with details of your scene to ayn@mistressayn.com
Recent feedback for custom productions:
"The angles took for the shooting are excellent: wide angles allowing to see the poor guys from the head  to the sexy high heels boots while you're humiliating them, there are close ups to see faces during action and the quality of the video is perfect. I'm really happy with the result."
"The cameraman made a wonderful work with the different angles of view. The quality of the video is fantastic like always and the plus, all this in only one take. So great.  And thank you for the beginning with the voice over narration to explain the context and the end where instead of "The End" you wrote… "La Fin".  Very cool."
All video is shot in high quality HD 1080p for crystal clarity and eye popping color.  Several custom clips have made it into the to 10 on Clips4Sale.  Interested in purchasing existing clips?  Visit My clips store for individual clips or get them all on AynRules.com for the only $19.95 per month or $39.95 for 3 months.