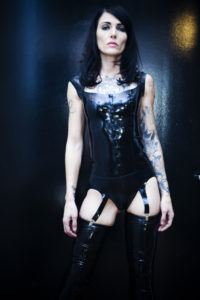 I hadn't seen Mistress Simone Kross in several years, so I was super excited to hear that she would be visiting Atlanta – and of course I wanted to set up some doubles while she was in town.  We kicked off her visit with a ballbusting session with a sub neither she nor I had sessioned with before.  He expressed his doubts that he could last the entire hour. so we plotted to make sure he did . . .
What follows is a review he wrote of the session on The Buzz:
"It's been two days since I had an intense Ballbusting session with Mistress Ayn and Mistress Simone.  My nuts are still mushy and tender, and I'm still riding an emotional endorphin high!  This was my first Double Dom session, and hopefully it won't be my last.  These beautiful ladies overwhelmed me to the point that I didn't know where to expect the next strike.  I experienced kicks, knees, punches, slaps, and all sorts of grabbing, squeezing, pulling, punching, slapping, and twisting of my manhood.
 
Their witty banter and laughing was genuine and they obviously enjoyed themselves.  They enthusiastically fed off each other and increased the pace of the session with unscripted play.  They took me to my limits of endurance, and just slightly past my limits.  They both knew when to give me a quick breather, and when to push on.  They were fantastic!!  I received their undivided attention for the entire session, and time flew by.  Both Mistresses were professional, fun, and at times brutal.  I highly recommend visiting the Atlanta Dungeon before Mistress Simone's visit ends.  I'll definitely be back the next time she and Mistress Ayn are together."
Posted by Luigi77
I agree that an opportunity to session with the Legendary Simone Kross is an experience that should not be missed.  She is pursuing a music career and not often available for sessions these days, so follow her on social media to keep abreast of her travel plans.
Her next visit to Atlanta will be announced here:  Simone Kross at Atlanta Dungeon
Follow her on twitter: @simonekross
Friend/Follow Simone on Facebook