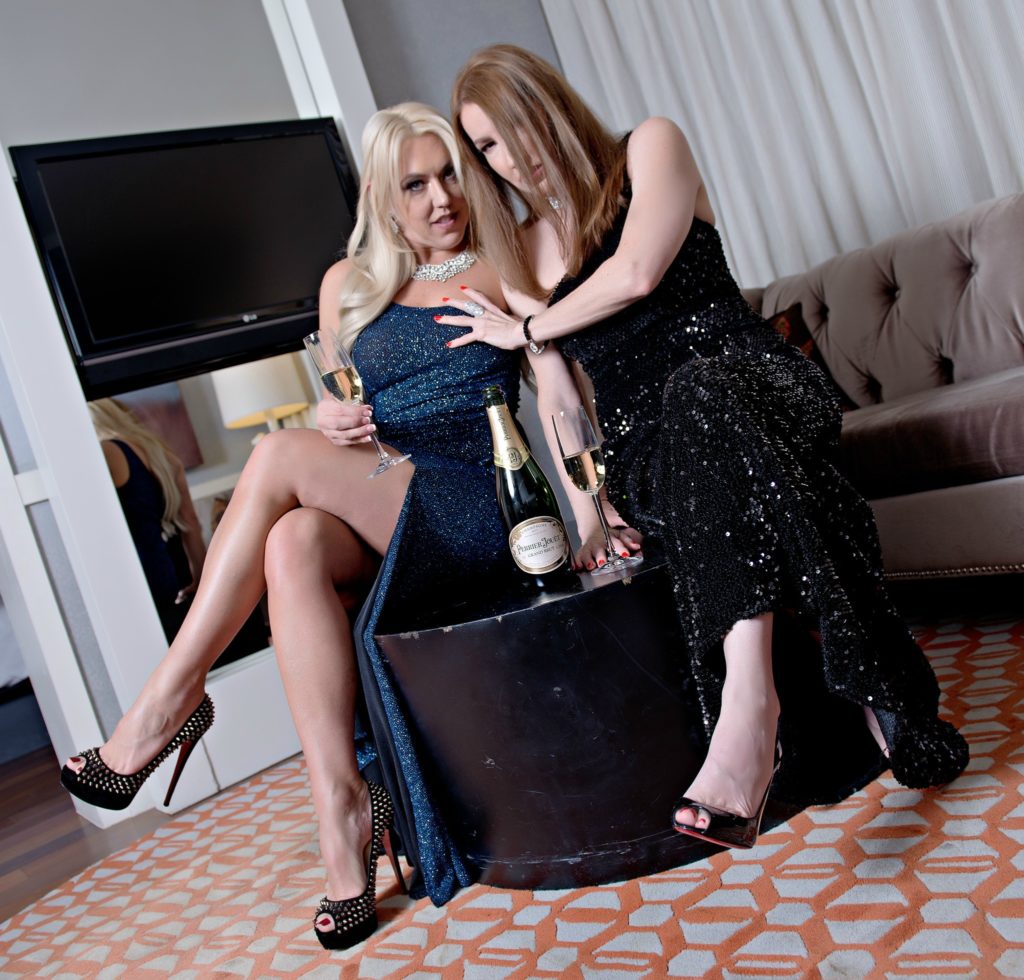 There is a reason why so many subs fantasize about a double Domme session.  When the chemistry is there and everything clicks – it's pure awesomeness.
Excerpt from a recent review that appeared on Max Fisch:
"I have sessioned with Goddess Samantha on two previous occasions and have come away totally spent. But I still have fantasized about two dominatrix's doing there thing with me. Mistress Ayn is another gorgeous dominatrix at the Atlanta Dungeon that I was struck by. So I inquired with the Goddess Samantha if she liked to do doubles with The Mistress. I was informed that she loved doubles with the Mistress, and they had great chemistry together. So I set up a double session with the both of them. And found out the hard way that they are absolutely great together with great chemistry. They feed on each others sadistic streak. Finally the day had come to do this double, everything was ready.
. . .  After the flogging, came the smacks across my ass, Goddess had the left cheek and Mistress had the right cheek, I was instructed to call out ether Goddess or Mistress according to which side I felt the smack. Faster and faster harder and harder, if I called out incorrectly I would receive an unbelievably hard crack across my ass for my mistake. I got plenty of those.
While Goddess continued to redden my back side, Mistress began the CBT from the front, this was becoming a mind overload . . .
I could hear Mistress conversing with Goddess "Oh look how hard his balls are under all that weight" said Mistress, the both of them talking and joking over my predicament. I could tell these two really are enjoying what they do. This added a degree of humiliation to the scene as well. The whole time Goddess was working over my chest like a dominatrix with a vengeance. This became sensory overload and continued for some time.
. . . . Then I was sharply guided by the rope still attached to my balls over to the bondage table, and quickly secured hand and foot by both Goddess and Mistress. I again could hear Goddess and Mistress conversing and having a laugh over my next fate.
Soon the Mistress was attaching stick on contacts for a tens unit around my dick and nut sack while Goddess was setting up the tens controller. They tested the tens by how high I jumped when Mistress turned up the power. I was jumping pretty high when Mistress asked "what setting do you think that was (1 to 10)" I guessed a 7 or 8 "oh no that was a 2" said Mistress, and the power increases exponentially "now don't yell too loud because this unit will increase power by the amount of noise present" Then Mistress gave the control a good crank I about came off the table, that unit was really rattling my balls. Again and again Goddess and Mistress laughing loudly causing the energy to hit me harder and harder. I tried in vain to scream softly so as to not add to the volume . . .
Goddess noticed that limit coming on and decided to give me a real treat, climbed up on the bondage table and lowered that gorgeous ass on my face really hard, controlling my breath. Mistress then started asking me questions so when I would answer Goddess would squat down on my face hard and shut me up. Mistress really enjoyed that.
Time for the Golden Shower . . .   I was soaked from top of my head to my chest" Oh Potty face" said Mistress, then asked Goddess should we allow him to take a shower. Worried me for a moment but was then allowed to wash up. my nipples were bruised blue and my dick so sore from the energy of that tens I could barely hold it to take a leak.
Many thanks Goddess Samantha and Mistress Ayn for giving me a double dose session, what I ask for, just the way I like it.
To read this review in its entirety, visit Max Fisch.