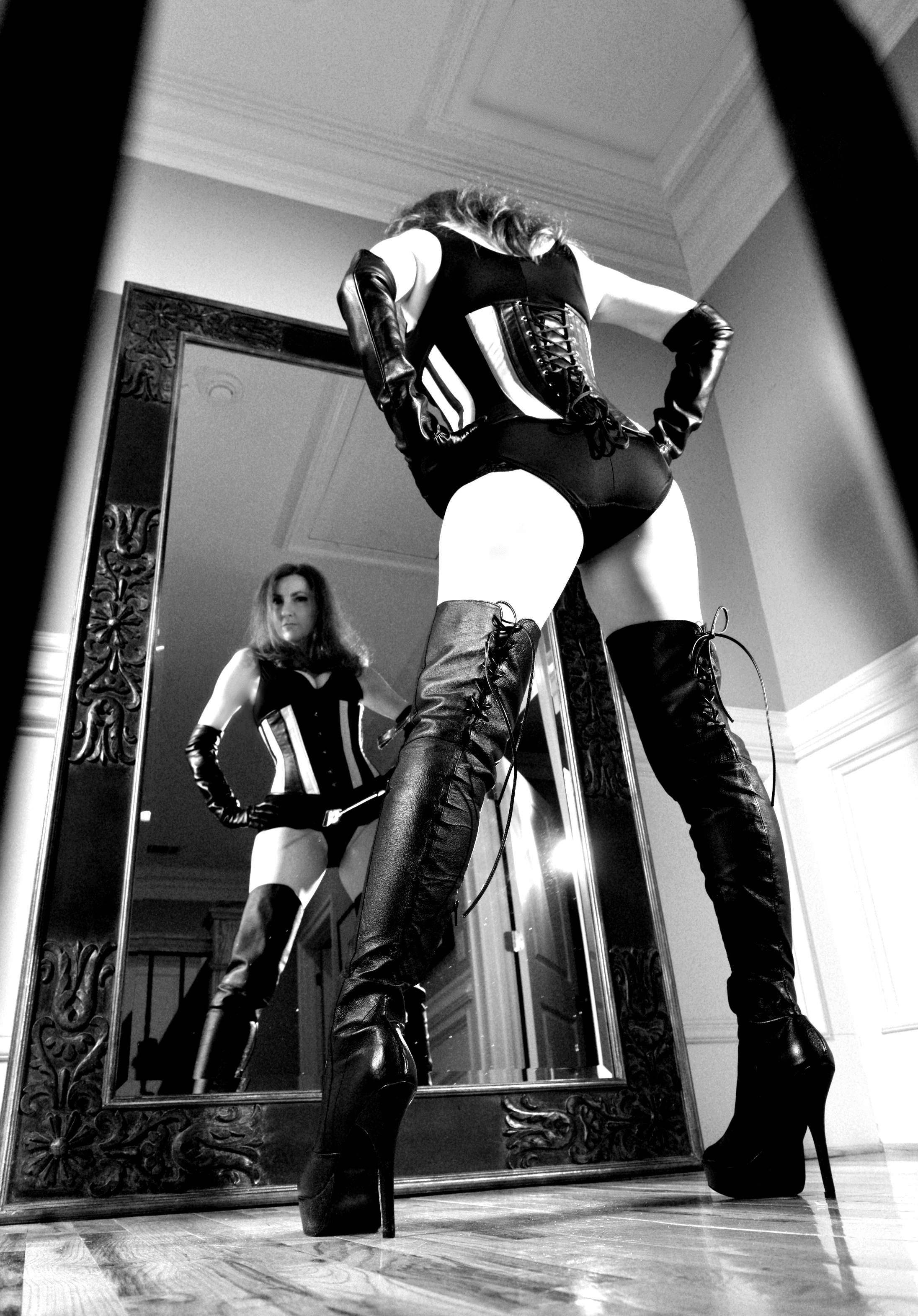 The following is an excerpt from a review on Max Fisch:
"Because of the distance I had to travel, I requested a two day session of 4 & 5 hours a day. We agreed on the days and time to meet. After two wonderful sessions, all I can say is the bar has been re-raised to a level that few, if anyone else could ever measure up to. 
Mistress Ayn replied and asked me to be in chastity when I arrive at the Dungeon. She was dressed in a corset that I had sent ahead as a thank you gift, and thigh high boots. She looked just beautiful. I presented Mistress Ayn with a few gifts and the key to the chastity device. I was instructed to change out of my clothes and report back to her in the Dungeon, which by the way is incredibly well appointed with fantastic gear and furniture. 
We established our "safe words" and got started. I am not the kind to give detailed reports of everything that took place. I like that to be a private matter between my Mistress and I. I will say, I wanted my limits tested and they were. I discovered that I am a "Slut" (Mistress Ayn's words) for Pain, Electrics, Corporal and anything else She threw at me, including her Strap On (another first for me). I loved every minute of all of it. 
Mistress Ayn has a way and a presence, with her occasional soft touch, soft words, and encouragement that just puts you in a state of mind I can't explain, but leaves you grateful for the experience. Wow!! The end of our first day, I was placed back in chastity and was to remain as such until our next meeting later the following day. Of course Mistress Ayn kept the key. 
That night, while sleeping the device popped off. OUCH!! I emailed Mistress Ayn the next morning and explained what happened. She replied" it happens sometimes" and seemed OK with that. After I arrived at the Dungeon, I was told to disrobe and we immediately got to business. Not a word was ever said about it again. Well without the protection of the chastity device, my little buddy and his two pals were fair game. Needless to say they got roughed up a bit which I found out later, via social media, was my punishment for not remaining in chastity. 
If you haven't already guessed, I had the absolute best time of my life. Finding Mistress Ayn is like finding the needle in the haystack. I'm sure you would agree and I plan many more visits." 
To read the full review, visit Max Fisch.