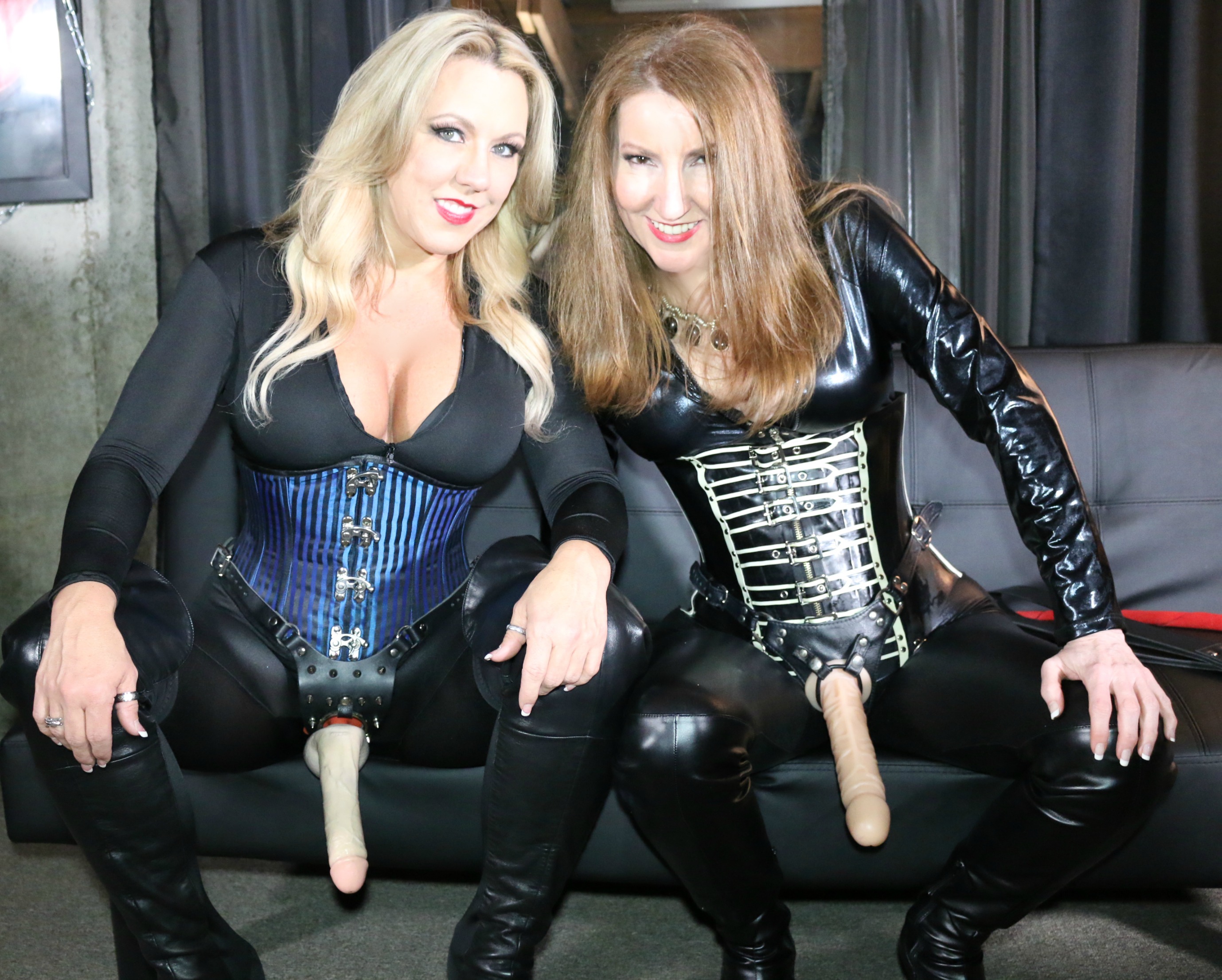 Couples' sessions are among My favorites.  About 3 years ago I saw this couple for the first time.  The Female (we will call her "A") was just beginning to cut her Domme teeth on her husband.  She had attitude in spades, she just needed to flesh out her talent.  Well, in the passing years, she has done exactly that.  Every time I see them, she gets better and better at dominating her slave husband.  She uses chastity, corporal punishment, electrical and good old mind fuckery to keep him in line.
Recently she contacted Me wanting to set up a special session to celebrate her husband's birthday.  She wanted a Triple Domination Session – with Me, another Mistress (we chose Goddess Samantha) and herself.  Boy, was he in for it.  We discussed the details ahead of time – including that she would let her husband have an orgasm, but it was important that it be ruined.  I was very excited about this session – and now you can read all about it in her review on TER.
This review can be read in its entirety on The Erotic Review.  Log in required.
"My slave husband and I had been active in the BDSM lifestyle for a while now.  This is about the 3rd time we have had sessions with Mistress Ayn and the first time with Goddess Samantha.  I felt it would be a great birthday present for my slave to serve other mistresses besides me, and to also allow himself to be tortured and punished by other mistresses so we can all have a great time together.  Prior to our visit with these two wonderful mistresses,  my slave was locked up and hadn't had an orgasm for a week.  In fact, he hadn't had a real orgasm in over two months – each release had been ruined.  So psychologically, he has been mindfucked for a while now.
My slave was very excited to be controlled by 3 mistresses.  By the end of the session, I can safely say he enjoyed himself but not without consequences of a severely marked ass that would leave him bruised for 2 weeks.   Both Mistress Ayn and Samantha Goddess were delightful to work with – don't let their Southern charm fool you!
We started the session on the St. Andrew's cross by taking turns torturing his balls and his cock.  His balls were so sensitive after having not cum for a week that it hurt like hell.  Next activity was by far my favorite – off to the spanking bench he went.  Oh, there wasn't only spanking involved.  Cock sucking and ass-fucking by all three of us were on the menu.  He learned to deep throat all of our big cocks and while deep-throating our cocks, one of us was always at the other end, fucking him in the ass.  He was getting it at both ends and it was a time to be had for all the mistresses.   Mistress Ayn punished him with many strokes of the cane, with the swift flick of her wrists, breaking skin on his smooth white ass.  On the other hand, Goddess Samantha, an avid workout gal, laid it on him with hard swings of the Delrin cane, dealing bruises that would stay for a while. Me? I took a few swings myself but just looked on and enjoyed the sight silently. and allowed the other mistresses to take swags at his ass.
We moved on to the finale of the session – electro torture.  We hooked his cock and balls and ass up with electro stimulation just for kicks and jolted his sensitive areas to create a heightened sense of satisfaction.   After we've had enough torture, we all agreed that he had been a good and obedient slave and we had played enough for the day.  Mistress Ayn teased his poor little cock with a Hitachi vib and right before he climaxed, his head was squeezed so hard at the height of his orgasm, that it was absolutely ruined. Cum spurted out violently, however the sensation was nothing but a dull letdown.  I had promised him he would be allowed to cum but I did not tell him how he could cum. So there he was, mindfucked again.
I encourage married couples to explore the possibility of BDSM in their relationship.  It brings creativity, excitement, mystery and sensuality to a marriage.  It never hurts to ask your spouse if they are open to the idea.   I was very reluctant initially in my marriage to try this crazy idea that my slave suggested to me.  It wasn't until the last 10 years of our marriage that I was willing to give it a shot.  With each passing year, I get more in control, and my slave, more subservient.  Our marriage has never been better.  We are happily married for soon-to-be 17 years."